18 Apr

Ceramic Journal 4/20/15

4/20/15
more and more my pinch pots are resembling small Japanese tea cups – something about their form, the roundness and size extend the shape of your hands cupped, and fit perfectly to hold the just amount of hot tea or coffee that will warm one and retain the taste.
the inside of the cup was first covered in an iron oxide stain, on top of which I added copper green glaze. the effect was a mottled green and black, that turns lighter as it drips over the edge and down the outside in a light yellowish green. the outside brown of the clay is deeper, much like a mud hut, or dark brown aged skin.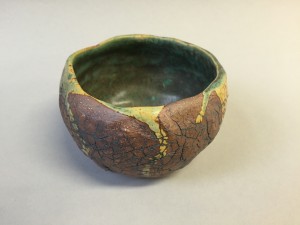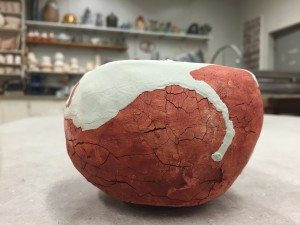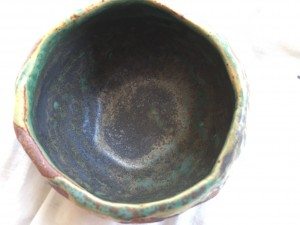 this has to be my favorite pinch pot, i can't decide on what side is front, and those who I have given it to hold and have a look never stop turning it. It fits in my hand like a small fruit, its the size of an egg, but this one has deep black cracks moving from the inside out, as if something were about to be born, and yet this birth is from the earth, something volcanic.