16 Apr

Development of a bowl

This series of photos show the development of a bowl from green stage through glazing and final product. I did this to record what the piece looked like when I first made it, with the clay dark brown as I worked with it, once it dries its color changes and so does the whole look of the pot. One thing for me has been trying to bring back that rich wet dark brown color of the clay when its moist, here it has a carnality, a look of flesh with the skins wrinkles and lines so obvious…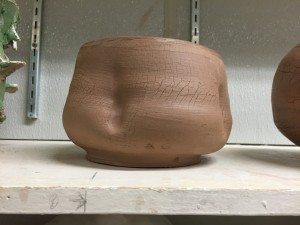 The inside of the bowl was glazed using 'salt yellow',
the outside was washed in iron oxide and then wiped gently
to create some areas of deeper browns and lighter browns,
on top of which the rim was painted in another glaze: cooper red.